Pearl Accent Earrings in Tortoise Shell
---
Size chart
Find Your Best Fit!
Probably one of the most frequently asked questions h+f receives is regarding sizing. Sizing is one of the biggest online shopping challenges as there are no consistent guidelines for brands/suppliers to follow when it comes to sizing. With all of us built beautifully differently, this can pose a challenge.
In this article, we will go over sizing and industry terms regarding fit, and product vs. size measurements, to help you, our customers, when deciding on the best fit.
MEET THE MODELS
 DENIM SIZE CHARTS
SIZING REFERENCES
You will find sizing references under many product details. This will inform you how the sizing runs for that specific product. A product can include: "True to size," "Runs small, please refer to product measurements," or "Runs big, please refer to product measurements."
*Please note: Our sizing references are based on standard US sizing practiced by popular and well-known US brands and stores.
FIT TERMS
Scrolling through the product details page, you will notice that we also include a product's fit on many items when this information is available. Not all clothing is created equal. There is a common misconception that if an item is loose it's too big or on the other hand, a body-hugging item may be too small. This is simply not the case as many products are intentionally designed to fit a certain way, so an item designed to fit oversized is still considered true to size.
Even if an item is designed to be oversized or relaxed, we all have our preferences. By being educated on fit and sizing you can easily advise your customers on how to proceed with ordering.
SLIM FIT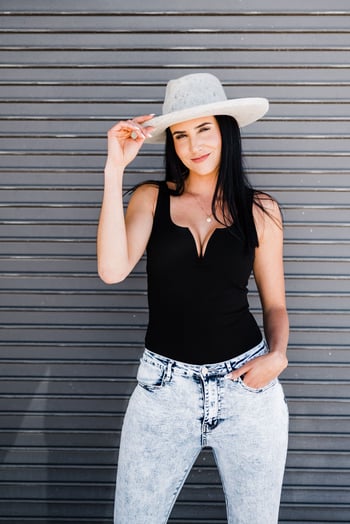 A slim-fit clothing item is one that is fitted to your body with very little to no excess fabric. These pieces are always highly stretchy and form-hugging. 
REGULAR FIT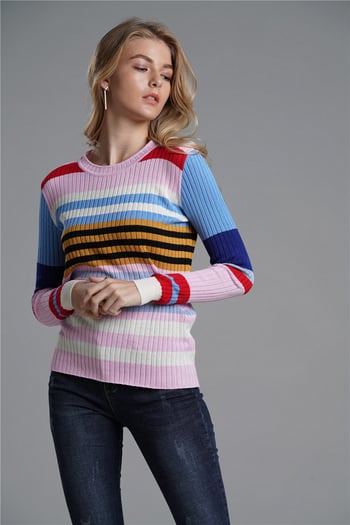 These are items that fit closer to the body but are not tight. Meant to be slightly loose around the body, but not at all baggy. Like a suit, tailored to the body's natural curves.
RELAXED FIT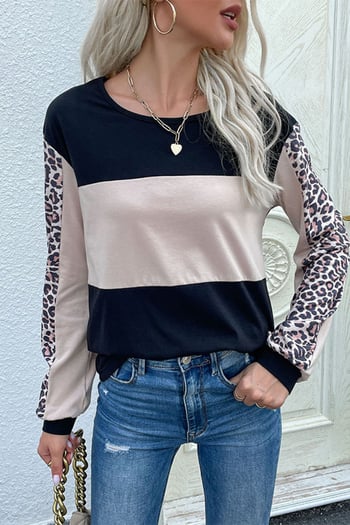 Items that are significantly larger than a regular fit, usually offer an extra 2" to 4" than standard chest/bust size. These clothes are loose-fitting and often slouchy.
OVERSIZED FIT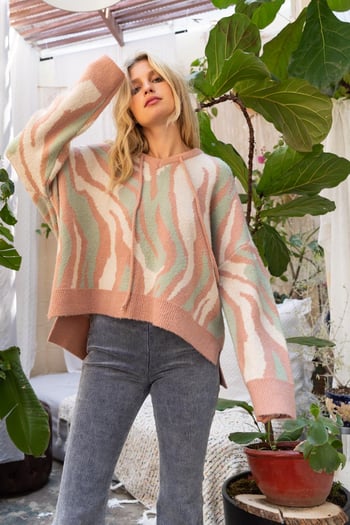 For items that are meant to appear too large but still put together and flattering. Super slouchy, voluminous, and less structured. An item designed with an oversized fit is still true to size because it is meant to be oversized. This allows flexibility to size down 1 or 2 sizes for a more fitted look and is available to more people.
PRODUCT MEASUREMENTS VS SIZE MEASUREMENTS
You will find measurements provided in most of our listings. The measurement information provided is specifically titled "Product Measurements" or "Size Measurements."
PRODUCT MEASUREMENTS
Product measurements are the exact measurements of the product itself and will always be provided when this information is provided to h+f. It is important to remember the fit mentioned earlier because of course more oversized and relaxed items will typically be several inches larger than your size measurements.
One of our suppliers even provides "Recommended Measurements" in addition to product measurements. These listings will contain both recommended and products measurements. Recommended measurements are the measurements of the wearer the supplier recommends each size fits.
SIZE MEASUREMENTS
Size measurements refer to the measurements of the person that each size will fit. When h+f is not provided with the exact "Product Measurements", we will include sizing measurements for reference.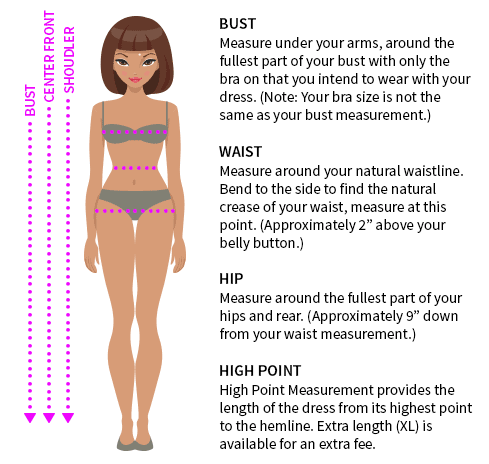 A majority of the listings that provide "Size Measurements" instead of "Product Measurements" are our US products, as many US vendors do not always provide this information. H+f works with reputable US vendors and brands and most of them run true to size. Although we do not currently have someone to measure every style's size manually, we are working on a way to make sure this information is available on future products.
In stock, ready to ship

Inventory on the way
Arrives In 3-5 Business Days
Competitive Shipping Rates
The Pearl Accent Earrings are a fun way to add something extra classy to your every day wardrobe!

Lightweight
1" Long
1" Wide

Available in Ivory & Tortoise Shell

Shipping Policy
Honey & Fig ships within the US only at this time.
Starting 7/17/2022, we will be moving from flat rate shipping to shipping by weight. This change is to help protect product pricing from increasing and to align better with shipping rates with major shipping carriers. Weight pricing is as follows:
$4.95 - Less than 1 lb
$7.95 - More than 1 lb, Less than 5 lb
$9.95 - More than 5 lbs
Starting 7/17/2022, we will also begin to offer faster shipping on select products via UPS. We hope to have this transition moved over completely by August 31st, 2022 and sole use UPS. If you need this faster shipping option, please email support@honeyfigboutique.com to see if your order is eligible, partially or fully. Faster shipping options are flat rate and are as follows:
$24.95 - UPS 3 Day Select
$29.95 - UPS 2nd Day Air
$49.95 - UPS Next Day Air
$94.95 - UPS Next Day Air Saver
All orders over $150 will be eligible for free shipping.
Make sure you are shipping to a secure location. We are not responsible for stolen packages.
You are responsible for entering the correct delivery address for your package. Any returned packages will be subject to returned shipping fees.

If packages are sent to the wrong address with Honey & Fig being at fault for the issue, we will cover costs 100% for replacing your order. 

We understand mistakes happen and want our customers happy, however, once the items leave our shipping facilities, we are not responsible for any packages in any way, shape, or form.
Domestic (within the US)
All orders are processed within 1-2 business days. Orders are typically processed in the same day within business hours otherwise are processed the next day. Shipping timelines are 3-5 business days.
Honey & Fig offers the following shipping processes:
USPS/UPS:

 First class 3-5 business days transit
 

UPS 3 Day Select: 3 Business Days - Guaranteed Delivery by End Of 3rd Day
UPS 2nd Day Air: 2 Business Days - Guaranteed Delivery by End Of 2nd Day
UPS Next Day Air: 1 Business Day - Guaranteed delivery by 10:30 a.m., 12 noon or end of day, depending on the destination, with delivery by 12 noon or 1:30 p.m. on Saturdays
UPS Next Day Air Saver: 1 Business Day - Guaranteed delivery (excluding Saturdays) by 3 p.m. or 4:30 p.m. to most commercial destination
Please make sure the address we are shipping to is a secure address. If packages are stolen we will try our best to help but we are not responsible for any lost or stolen packages. 

Due to higher online order volumes across the US, there may be a delay in your package delivery time during the holiday seasons. Please allow an extra 2-3 business days for delivery of your package. 

Tracking your order is easy! We supply you with a tracking number once it is ready and sent via email. We currently use USPS as our mailing provider, but hope to change providers in the future!

Returns & Exchanges
WE ONLY OFFER STORE CREDIT FOR RETURNS. WE DO NOT ISSUE REFUNDS TO ORIGINAL METHOD OF PAYMENT.
Return Policy:
Returns will be issued refunds in the form of a digital Gift Card.
We want our guests to be happy, but let's face it - shopping online is never perfect! We must receive your return request within 14 days of your order delivery date to be eligible for a refund. From here, our guests have 30 days' to be able to return their order. To request a return label, please use the return portal listed her in the policy or at the bottom of our website!
Orders needing to be returned must be requested within 14 days of delivery AND placed in the mail system within 30 days of receiving the order. Returns not following this guideline will be rejected - no exceptions.  We follow a strict guideline policy to ensure inventory levels are accurate as possible for customers as well as ensuring refunds are placed correctly. 
Returns must be scent free, unworn, unwashed, with all tags attached. Please include your package slip (invoice) with the return. If we receive your item and it does not meet the requirements, there will be a 25% restock fee deducted from your return amount.
Our customer service runs from Monday-Friday 9:00 am to 5:00 pm CST with the exception of holidays observed. (For example, if we are closed the Monday for a holiday and will have left the office at noon the Friday prior.)
Sale items are final and cannot be returned or exchanged - there is no exception to this. Sale inventory moves exceptionally fast, and we cannot promise that your size will be available.
Lost items are not refundable with the exception of Honey and Fig being at fault (I.e. accidentally sending the package to the wrong address, however, we use the information our customers supply in their orders)
HOW WILL I RECEIVE MY STORE CREDIT? 


Expect an emailed E-Gift card within 3 business days of the delivery of your return back to us. Please note that if items do not meet our requirements mentioned above, they will be subject to a 25% restocking fee.
Do we offer return labels?

We do! Be sure to have your order number and email associated with that email handy:
Follow the link below and follow the prompts:
Can I make a return past the 30-day period for store credit?
As we mentioned above, you must use the return portal to begin a return within 7 days of your order being delivered. Unfortunately, we cannot accept clothing past the 30-day return policy for store credit or exchanging. Requests for returns and not placed in the mail system within this time frame will be rejected - no exceptions. We follow a strict guideline policy to ensure inventory levels are accurate as possible for customers as well as ensuring refunds are placed correctly. 
NON-RETURNABLE ITEMS: 
The following items are non-returnable due to hygienic and sanitation control as well as inventory control.
All accessories & shoes

All swim & intimates

All final sale/clearance items
Exchanges
If you wish to exchange your item for another size, you must return your unwanted item back to us. After we receive, inspect and approve your item, we will issue a store credit via E-Gift card. You may then place an order for the desired size using your store credit. 
Defective Items:
All defective merchandise must be reported within 3 days of receiving. Merchandise that has been washed cannot be accepted for store credit.
Contact Us With Further Questions:
E-Mail: honeyandfigboutique@gmail.com